Nature paradise are the words that come to mind when you see magnificent views and lavishing greenness all around you. Even though it was the end of February/beginning of March, the temperature was mild, good for trekking, and the nature around us didn't seem to be in winter "sleepmode".
How did we end up in the westernmost point of Europe?
Flores (translated from Portuguese it means "flowers") island is considered to be the westernmost point of Europe. We fell in love with the Azores after our first visit a few years ago, when in 5 days we visited 4 Azorian islands. Our dear friends whom we haven't seen for a long time decided to go to the Azores, so we decided to join them for a long weekend in Ponta Delgada (the main city of the Azores in São Miguel island), since from Portugal (where we're based) it's quite easy to reach the Azores at an affordable price.
But life always brings some unexpected surprises, so, in our case, it happened that our friends couldn't go to the Azores and we ended up going there alone.
We started brainstorming on the idea to go somewhere we hadn't already been to in the Azores. So we picked Flores island and bought the additional internal flights from Ponta Delgada to Santa Cruz das Flores (the capital of Flores).
On the plane or on the bus?
Flying between the islands in the Azores might seem more like going on the bus, even if actually are on an airplane.
The internal flights are run by the Azorian airlines SATA. With the little plane we made one stop in São Jorge island (we even didn´t leave our seat) going there, and made one stop in Terceira island coming back. The distance between Ponta Delgada and Santa Cruz das Flores is more than 600 km.
While travelling off-season, keep in mind that because of strong winds 50% of all flights to or from the island get cancelled. It happened to us when coming back. We stayed one more day in Flores because of it. Of course, the airline takes care and pays for everything – hotel, transfers, meals, etc.
What we saw?
In a short period – initially 3 days but with the cancelled flight it extended to almost 5 days – with rented car we drove the island more than once. It's not surprising when you look at the numbers: the population of the island is 3700, the coastline is 72 km. But it's full of natural wonders! Since 2009 the entire island has been in the UNESCO Biosphere Reserve.
All our trail you can see in the Travel Map.
As very often happens in our trips, Rother Walking Guide was our "best friend". Their guide "Azores: The finest coastal and mountain walks" has 10 treks in Flores island.
Our recommendations
All the most interesting points of Flores island you can find in any website which talks about visiting Flores. We will mention 2 things that impressed us.
All our stay was in one of the houses in Aldeia da Cuada. It's a village that consists of 20 modest houses. This village was abandoned by its inhabitants in the 1960s when people emigrated to several countries, but mainly the US. A couple started to buy houses and converted them into guest houses. We liked to stay there very much!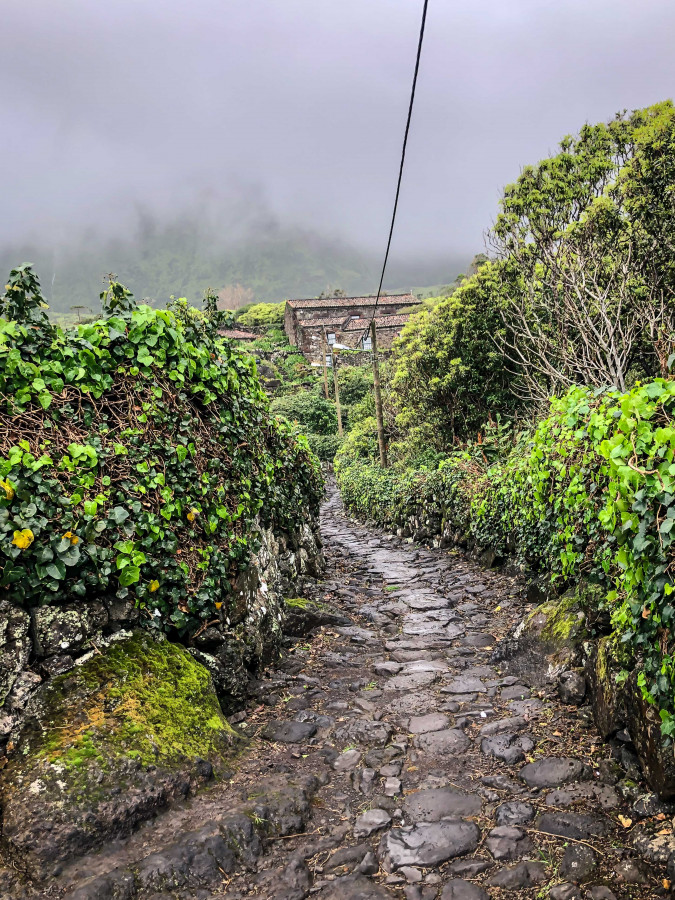 Only because we were "stuck" in Flores for almost 2 more days we managed to visit Whales museum (Museu da Fábrica da Baleia do Boqueirão), which is located in the old factory of whales. We learnt a lot about whaling, and not only in Flores island! Our museums experience continued with the nearby Boqueirao Environmental Interpretation Centre (CIAB). There we learnt about how the French setup a communications centre in the north of the island in 1963, the current airport, an electric power station, amongst other facilities, and how it helped to develop the island.
What did we miss?
While being in the island you always have a feeling that you're kind of in a very isolated place.
Because it was off-season the places / restaurants to eat were very limited. Sometimes we would do half of the island to the place to get to know that it was closed. However, the restaurant of Aldeia da Cuada where we stayed was always open and we liked the food there. Few times we made meals by ourselves in the kitchen of our house in Aldeia da Cuada.
Even though there were shops and even supermarkets in Flores, this was one of the few times in my life where you enter the shop and see empty shelves. Because there are few people in the island there is no big turnaround of the products, especially the fresh ones. And you see "deserted" places. The most difficult thing is to find fresh fish or meat, which the locals explained with the self sufficient locals, who usually have direct access to local produce and go out fishing regularly.
The place to come back!
Until now this is my favourite from all the Azorian islands I've seen. The nature there is something out of this world! Next time, we definitely would do a day boat trip to neighbouring Corvo island. The time we were, the boat trips still weren't in operation, it was out of season.